Look in the sky…is a bird, is it a plane? No, it's WonderMom!
As I am typing this, my son is screaming to the top of his lungs because for some insane reason, he is obsessed with my computer keyboard and I won't let him play with it. "Everyday I hads to fight, I love Sammy, but i'll beat him b'fo I lets him lay a hand on my Mac" (color purple reference). LOL! But for real, I am multi-tasking like crazy these days.
Being a mom is rewarding, but as many of you know, it comes with it's challenges, long nights, longer days and headaches. Sometimes I wish there were two of me so that I could get more done. It's easy to feel like you're not doing enough, but as long as your baby is happy and healthy, you are doing FANTASTIC. Say that to yourself out loud because I just did.
I AM ENOUGH! I AM A FANTASTIC MOM! I AM WONDERMOM!
Say it out loud again…that felt great right?! We always have to say the opposite of what we feel in that moment. Speak good things over yourself, and over your child and you will receive good things. *insert praying hands*
This weeks look is all about caped dresses. I had a friend ask me the other day were they still in fashion and I looked at her and said, "anything that hides my stomach will always be in fashion". I love them because it adds a bit of drama to a boring old shift dress and it can also help "camouflage" those problems areas such as big hips, wider waist lines and that stubborn tummy.
Also, if you are pregnant and looking for the perfect shower outfit, they are perfect.
Kim K wore these a lot while she was pregnant and she always managed to look chic and comfortable. Now, I can't afford her designers, but I will definitely list a couple of great shift dresses I have found that work great for that girl on a budget. I found my gorgeous caped Gianni Bini Dress (size 8) and I paired it with a black embroidered bag and some Betsey Johnson stilettos.
So, what are your thoughts on the whole caped look, would you ever wear this style and have you ever worn this style? Comment below and let me know and check out the links to some affordable fashions down below. FYI in the middle of the shoot, Sammy threw up all over my dress. That's the large stain at the bottom of my gorgeous dress in the last picture. *deepsigh*
Caped Dress (click on pictures to get directly to the site)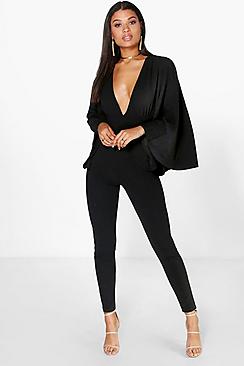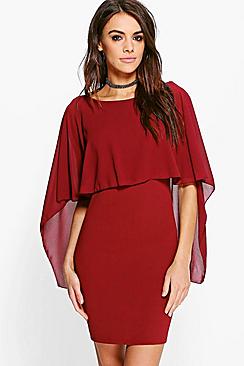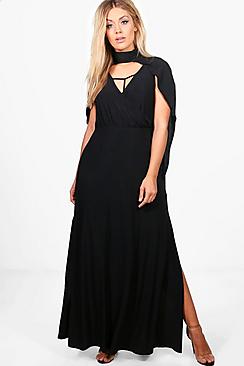 this last one is plus size
Heels: Betsey Johnson…SOLD OUT but here are some options:

Sunglasses:

Be sure to subscribe for email updates and follow House of Odara on Bloglovin for updates. Find me on Instagram, Snapchat (tinkrb11e) and subscribe to my youtube channel. All emails and inquiries can be sent to funmis1@gmail.com.
XoXo Emma